What is a Washington Airline Reporting Commission (ARC) Bond?
Learn the how-to of this travel agency requirement in Washington!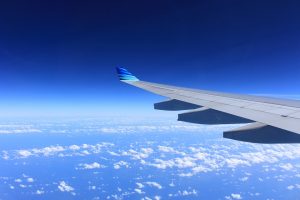 Travel agencies who are applying to be registered in the Airline Reporting Commission's (ARC) Accredited Agency Program are required to furnish a surety bond.
The purpose of this surety bond is to ensure that travel agencies will send the payments that they have collected to the appropriate airline companies, as well as pay the amount owed to the ARC in full and on time.
What is the bond amount?
The bond amount will be determined by the Airline Reporting Commission. The bond amount will not be less than $10,000 or more than $70,000 with some exceptions.
New ARC Travel Agency:
The minimum bond amount is $20,000
If the travel agency has remained on the ARC Agency List for two years, the bond amount may be reduced to a minimum of $10,000.
Travel Agency Associate Branches:
If the travel agency has one or more associated branches, the minimum bond amount will be $70,000, and the maximum bond amount will be $150,000.
Have an excellent credit score? Pay just 1% of the bond amount! Get your FREE quote here!
What are the bond conditions?
The bond will be a legally binding agreement between these three parties:
Principal – The Travel Agency applying for the ARC Accredited Agency Program
Obligee – The Airline Reporting Commission (ARC)
Surety – the surety bond company
The principal will send the collected payments to the airline companies
The bond will cover the transactions issued on ARC traffic documents such as, but are not limited to, the following:

Amounts that have been used but are not reported or have not been paid for by the travel agency
Amounts owed for dishonored drafts

Amounts owed due to loss, misapplication, theft, forgery, or unlawful use of ARC Traffic Documents
The Obligee will notify the Surety of the Principal's default within 90 days of discovery
The Surety should immediately notify the Obligee of any changes made to the bond
In case of cancellation, a 30-day notice is required
How can I acquire this bond?
You must first submit a bond application. Once the application is received, one of our expert surety bond agents will guide you through the whole process – from application until submission. An underwriter will then evaluate your financial strength, job performance history, and your credit score.
Once the prequalification process is fulfilled, we will execute the bond and send it to you!
What are the other requirements for the ARC Accredited Agency Program registration?
The travel agency must be located in the U.S.A, the U.S. Virgin Islands, Puerto Rico, or American Samoa.
The travel agency personnel should meet the standards stated in Part II-8 of the ARA
The travel agency must meet the ticketing security standards of Section B of the IAH
Need help with this bond? Call us today!