What is a Pennsylvania Inspection Station Bond?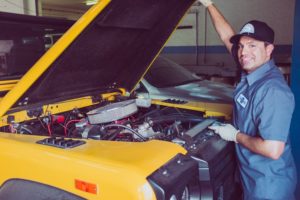 Applicants for a certificate of appointment to a privately owned facility within Pennsylvania must provide a surety bond as prescribed by the Pennsylvania Bureau of Transportation.
The Inspection Station Bond guarantees that the certificate appointees will fulfill their obligations and faithfully comply with all statutes, rules, and regulations related to the said certificate of appointment as an official inspection station.
The bond also financially protects vehicle owners from sustained vehicle damages while they are in possession of the inspection station.
What are the bond conditions?
The bond must be written by a Surety authorized to transact business in the Commonwealth of Pennsylvania.
The Principal must fulfill its obligations and faithfully comply with all statutes, rules, and provisions of Section 4722 of the Vehicle Code, 75 Pa.C.S. §4722, 67 Pa. Code, Chapter 175, and all orders as an official inspection station.
The Principal shall save and keep harmless the Commonwealth of Pennsylvania from all loss or damages which it may sustain.
The bond is continuous and shall remain in force and effect until terminated by the Surety, or have the license suspended by the Secretary of Transportation, where the Surety will have no further liability.
The Surety may terminate the bond upon giving 60 days' written intention to the Secretary of Transportation.
The bond must be renewed each year automatically for the successive twelve-month period(s).
What is the bond amount?
The bond amount is $10,000. A separate surety bond is required for each place of business.
The cost of the bond is a percentage of the bond amount. It typically ranges from 1%-5% of the bond amount, which serves as your bond premium.
How do I get an Inspection Station Bond?
To secure this type of bond, the professional fundraising applicant must seek the assistance of a surety bond company.
You will be asked to apply for this bond. For an accurate estimate of your bond price, get a FREE quote HERE!
Once the application is received, the surety bond company will immediately process it. In our case, one of our expert surety bond agents will guide you through the whole process from the time you applied for the bond. We will make sure that you understand all the conditions before we issue the bond.
An underwriter will usually evaluate your credit score to gauge your bonding capacity.
You may also need to provide the BOND FORM, which can be obtained from the Pennsylvania Department of Transportation.
Once the prequalification process is fulfilled, we will execute the bond and send it to you!
Talk to us and let us get you bonded right away!