What is a North Dakota Janitorial Service Bond?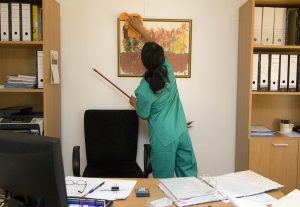 By the very nature of the service offered, the Janitorial Industry has low capital investment requirements. In 2014 alone, there were a projected 829,522 firms competing in the industry. Commercial cleaning arrangements are normally good for one year and can be concluded by the operator or client with 30 to 90 days of notice. Cleaning companies usually bid on contracts, a feature that makes price-based competition prevalent in the industry. Additionally, there is also a low level of training required for industry workers. Wages for industry employees usually reach an average $14,753. There are no licenses or regulations restricted to this industry, except in meeting all the common state occupational health and safety directives, including the use and secure storage of all cleaning chemicals and compounds.
Considering the huge number of cleaning companies competing in the market and since there is not much barrier to the entry of new players, it is imperative that a company offering janitorial services in the State of North Dakota employ a strategy that could provide a competitive edge over its rivals. That strategy is the Janitorial Service Bond.
The North Dakota Janitorial Service Bond is a resolute expression of commitment to abide by State laws. It is a clear manifestation of firm dedication to clients' satisfaction. Having this bond, current patrons and possible customers are certain that the cleaning company will meticulously function in accordance with North Dakota customary business policies and regulations.
Why do you need a North Dakota Janitorial Service Bond?
Possessing the North Dakota Janitorial Service Bond is a failsafe guarantee that the job being contracted will be accomplished at the time it is expected to be completed and that the business owner will appropriately compensate all personnel for services rendered.
You need to secure the North Dakota Janitorial Service Bond because you value your reputation as a business owner. You likewise need it to make your clients feel assured that their property and personal belongings are safe while your people are providing cleaning services. Without the bond, your business image will be ruined once untrustworthy workers steal your clients' cash and personal effects. With the North Dakota Janitorial Service Bond, customers will be drawn to avail of your services because they want to hire a company they can trust.
More details about the North Dakota Janitorial Service Bond
Before getting bonded, you need to equip the bonding company with your business name, address, preferred bond amount, and how many employees you have. You also need to determine what type of cleaning service you want to run so that the bond can be tailored to the class of customers you will cater to – whether these are huge edifices, residential homes, building exteriors, etc.
How much does a North Dakota Janitorial Service Bond cost?
The amount of the North Dakota Janitorial Service Bond premium will depend greatly on the number of your employees, and in some cases, on the value of the possessions of your customary clients. This will also determine if you need additional insurance to complement the protection you are seeking for. Premiums are not expensive; however, if you have a low credit score or a problematic financial history, you may be required to pay more.
How do I get a North Dakota Janitorial Service Bond?
Getting a bond is easy and fast. So as not to waste precious time and effort, contact only genuine professionals. Give Surety Bond Authority specialists a call now! With Surety Bond Authority taking care of your business affairs, you will have the answers you need and the solution to your concerns with regards to protecting your business and your clients.