What is a Minnesota Bullion Coin Dealer Bond?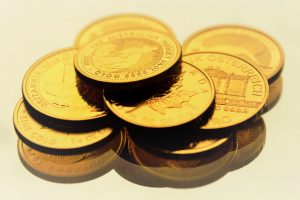 A surety bond is a prerequisite for obtaining registration or renewing a registration as a Bullion Coin Dealer in the State of Minnesota.
The requirement is adopted from § 80G.06 of the Minnesota Statutes by the Minnesota Department of Commerce.
The surety bond will act as a guarantee that the Bullion Coin Dealer's client will be protected in case of any misconduct committed by the aforementioned dealer.
What is the bond amount?
The bond amount will be based on the transactions during the 12-month period prior to the Bullion Coin Dealer's initial registration or renewal.

Those who have excellent credit scores may qualify for a very low bond premium or just 1% of the bond amount!
Find out what you need to pay by getting your FREE quote here!
What are the Bullion Coin Dealer bond conditions?
The surety bond should be issued by a corporate surety who is authorized to conduct business in the State of Minnesota such as Surety Bond Authority
The surety bond should be made payable to the Department of Commerce of the State of Minnesota
The Bullion Coin Dealer registrant is obligated to comply with the provisions of § 80G of the Minnesota Statutes, the rules and regulations of the Minnesota Department of Commerce, and all the other applicable rules that govern bullion coin dealers in Minnesota
If the Bullion Coin Dealer registrant commits a valid violation, the Commissioner of Commerce, the Minnesota Attorney General, as well as any consumer who have suffered direct damage will be eligible to file a claim on the bond
The surety bond will remain valid until canceled. In the case of cancellation, a 60-day notice is required
How do I obtain this type of bond? 
You can get this bond by following these simple steps:
STEP 1: Apply for the bond
You need to submit a bond application to us. If you're ready to apply now, you may do so here!
STEP 2: Underwriting
We will ask you for a couple of important information needed for the bond. This will include your financial history, job/business performance history, and your credit score.  An underwriter will carefully evaluate all those.
STEP 3: Bond execution
Once the underwriter is done with the prequalification process, we will immediately issue the bond and send it to you!
Please take note that each business structure (Individual, Partnership, Corporation/LLC) will have a different bond application.
If you are ready to start on your bond today, give us a call or apply here!