What is an Alabama Sale of Check Bond?
Get an affordable surety bond for your Money Transmitter business!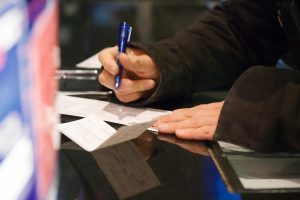 Also known as a Money Transmitter Bond, this surety bond is a requirement for persons who are applying for a license in order to perform the following under the Sale of Checks Act:
Sell, issue, or dispense checks
Act as an agent for obligors by receiving their money for the purpose of paying the obligors' accounts, bills, or invoices
The surety bond required by the Alabama Securities Commission should be submitted along with your application. It will serve as an assurance that you, the Principal, will satisfy your obligation to the Obligee or your clients in accordance with the state laws and the rules of the Commission.
The bond is also a client protection tool. It will provide financial compensation for the client if the licensed person commits misconduct or fails to perform his or her duties.
The requirement is in compliance with Section 8-7-14 of the Code of Alabama.
What is the Sale of Check Bond amount?
The bond amount is $10,000 for the principal office plus $5,000 for each additional office. However, the maximum bond amount should be $50,000.
If you have a stellar credit score, you will be eligible to pay for a low bond premium!
Know what you need to pay today by getting your FREE SURETY BOND QUOTE HERE!
What are the bond conditions?
The surety bond should be issued by a surety bond agent or company that is authorized to conduct business in Alabama
The licensee is obligated to comply with the provisions of Sections 8-7-1 to 8-7-15 of the Code of Alabama or the Sale of Checks Act, the rules and regulations of the Alabama Securities Commission, and the other applicable rules
If there are any liabilities obtained from selling, issuing, and dispensing of checks, or receiving money from obligors for the payment of the obligors' bills, the aggrieved party will be eligible to file a claim on the surety bond
How can I get a Sale of Check Bond?
You can easily get this type of bond from us!  Don't worry. We will guide you through the whole process. We will make sure that you will understand what you will be getting into.
First, you need to submit an application.
If you are ready to do that now, you may APPLY HERE!
Once we have received your application, we will ask you to provide us with some important information needed for the underwriting process. These will include the following:
Your financial history
Your business history
Your credit score
An underwriter will carefully evaluate all the information that you will give us. Once this process has been fulfilled, we will immediately issue the bond and send it to you!
Need more information about this bond? Talk to one of our experts at 800-333-7800!