What is a Wyoming Certificate of Title Bond?
Need a replacement for your vehicle title? No problem! A surety bond is all you need!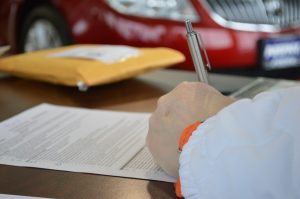 A surety bond is prescribed by the Wyoming Department of Transportation for persons who are applying for a duplicate of any misplaced or lost certificate of title.
The requirement is in pursuance of § 31-2-105 of the Wyoming Statute Annotated.
The purpose of the surety bond is to indemnify any person who will suffer damages due to the issuance of a certificate of title.
What is the bond amount?
The bond amount varies. The bond amount should be twice the retail value of the vehicle being applied a certificate of title for.
The value of the vehicle can be determined in the following ways:
From any current national appraisal guide
From current or past vehicle registration
A written certified statement from a properly licensed Wyoming vehicle dealer
Those who have excellent credit scores may qualify for a very low bond premium or just 1% of the bond amount!
Find out what you need to pay by getting your FREE quote here!
What are the conditions of the Wyoming Certificate of Title Bond?
The surety bond should be issued by a corporate surety who is authorized to conduct business in the State of Wyoming such as Surety Bond Authority
The surety bond will be made payable to the State of Wyoming
The Certificate of Title applicant should comply with the provisions of § 31-2 of the Wyoming Statute Annotated, as well as the rules and regulations of the Wyoming Department of Transportation
In case of a valid violation committed by the Certificate of Title applicant, the aggrieved party will be eligible to file a claim on the bond
How can I obtain this bond?
In order to secure this type of bond, the Certificate of Title applicant must seek the assistance of a surety bond company.
You will be asked to apply for this bond.
Once the application is received, the surety bond company will immediately process it. In our case, one of our expert surety bond agents will guide you through the whole process from the time you applied for the bond. We will make sure that you understand all the conditions before we issue the bond.
An underwriter will then evaluate the following:
Your financial strength
Your job/business performance history
Your credit score
The vehicle's history
Once the prequalification process is fulfilled, we will execute the bond and send it to you!
What else are the requirements for a Certificate of Title replacement?
The applicant shall submit an affidavit of vehicle ownership that includes the following:
A description of the vehicle
A detailed account of how the owner acquired the vehicle
Any lien or security interests must be fully disclosed
A statement that the applicant is the lawful owner of the vehicle
Ready to start on this bond? Apply here!