What is a Wisconsin Fitness Center Bond?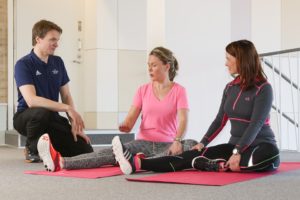 Looking to open a fitness or weight reduction center in Wisconsin?
Under Wisconsin Statutes S. 100.177, no center may collect or require a buyer to pay more than $100 for center services before buyers receive or have the opportunity to receive those services unless they purchase a surety bond.
A Fitness Center Bond guarantees proof of financial responsibility. It protects customers and the general public by ensuring financial compensation if the center fails to issue refunds due to its failure in providing proper services and facilities due to the customer.
A fitness center refers to a for-profit establishment that offers services or facilities that assist customers in physical exercise, weight control, or figure development, including but not limited to a fitness center, studio, salon, or club. A fitness center does not include an organization that solely provides training or facilities in an individual sport or a weight reduction center.
The fitness center should have employees who have completed a course or courses in basic first aid and basic cardiopulmonary resuscitation and are proficient in the use of an automated external defibrillator taught by an individual, organization, or institution of higher education.
What are the bond conditions?
The Surety must be authorized to conduct the surety business in the State of Wisconsin.
The bond ensures to make indemnifications if the fitness center (Principal) is found to violate its bond obligations. A claim will be filed against the bond. The Surety, then, will pay out any money to settle a claim. The Principal will reimburse the Surety of the full amount of the money paid out.
The bond remains continuous and must be renewed annually to comply with regulations established by state statutes.
The Surety reserves the right to cancel a fitness center bond at any point during the term by notifying the Wisconsin Department of Agriculture, Trade and Consumer Protection (Obligee) in writing at least 30 days in advance of the planned cancellation date.
What is the bond amount?
The amount for a Fitness Center Bond is $25,000.
The cost of the bond, which is a percentage of the bond amount, is going to be based on the applicant's financial standing and credentials. The bond amount can be anything between 1% and 5%.
Learn more about your bond costs and requirements by getting your FREE quote HERE!
How do I obtain a Fitness Center Bond?
Getting bonded is accessible and affordable. Please follow these steps:
STEP 1:
Apply for the bond. You need to submit a bond application to us. If you're ready to apply now, you may do so HERE!
STEP 2: Underwriting
We will ask you for a couple of valuable information needed for the bond. This will include your financial history, business performance history, and your credit score. An underwriter will carefully evaluate all those.
Also, you need to submit a copy of the bond form (which can be obtained from the State Department).
STEP 3: Bond execution
Once the underwriter is done with the underwriting process, we will immediately issue the bond and send it to you!
Get your Fitness Center Bond by contacting us today!