What is a Washington Hearing Aid Specialist License Bond?
Get to know one of the most important requirements for becoming licensed as a Hearing Aid Specialist in Washington!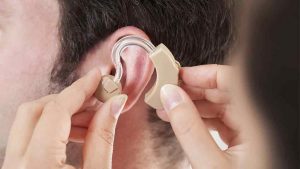 Every individual that is engaged in the fitting and dispensing of hearing instruments within the State of Washington is required to post a surety bond.
The said requirement is enforced by the Washington State Department of Health by Chapter 18.35.010 of the Revised Code of Washington.
The surety bond's purpose is to protect the clients of the Hearing Aid Specialist in case misconduct is committed by the license holder or any of its employees or agents.
What is the bond amount?
The bond amount should be a minimum of $10,000.
If you have an excellent credit score, you may be eligible to pay a very low bond premium or less than 1% of the total bond amount!
Find out you need to pay for this bond today! Get your FREE quote here!
What are the bond conditions?
The bond will be a legally binding agreement between these three key parties:
Principal – The Hearing Aid Specialist applying for the license
Obligee – The Washington State Department of Health
Surety – the surety bond company that will issue the bond
The bond must be issued by a surety bond company licensed to conduct business in Washington such as Surety Bond Authority
The license applicant/Principal will comply with all the provisions of Chapter 18.35 of the Revised Code of Washington and all the other applicable rules and regulations that govern Hearing Aid Specialists
In case of a valid violation, the aggrieved party or the Washington State Department of Health will be eligible to file a claim on the bond for the benefit of the Hearing Aid Specialist's client
How can I obtain this type of bond?
STEP 1: Apply for the bond
You need to submit a bond application to us. If you're ready to apply now, you may do so here!
STEP 2: Underwriting
We will ask you for a couple of pertinent information needed for the bond. This will include your financial history, job performance history, and your credit score. An underwriter will carefully evaluate all those.
STEP 3: Bond execution
Once the underwriter is done with the underwriting process, we will immediately issue the bond and send it to you!
What else are the other license requirements?
Graduate of a 2-year degree program or nine-month certificate board-approved program
Submit a completed Hearing Aid Specialist Application form
Pass the Hearing Aid Specialist examination
Complete the Jurisprudence Examination
Agent Registration
Take the 4-hour HIV/AIDS education and training
Pay the necessary fees:
Initial license: $205
Renewal: $75
Ready to start on your bond? Call us now!