What is the Texas Janitorial Service Bond?
Grow your business by protecting your clients! Get bonded today!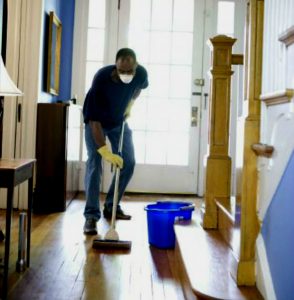 A janitorial Service business is lucrative, but it comes with major risks. One of which is theft.
Theft is a very serious matter that can jolt the very core of a business. There are some detrimental outcomes that will take a toll on your business dealings with both your current and potential clients because of this.
Employee theft can happen even if you're extra vigilant, and even if the employee possesses a clean track record. And that's why as a safety net, many companies in the aforementioned industry opt to procure a Janitorial Service Bond.
A Texas Janitorial Service Bond is a type of Business Service Bond that aims to protect the Janitorial Service Company's clients in case one of its employees commits misconduct such as stealing while inside the client's home.
The key people or entities involved in the bond are the following:
Principal – the Janitorial Service Company
Obligee – the Janitorial Service Company's client
Surety – the surety bond company that will issue the bond
The principal will purchase the surety bond for the protection of the obligee in case a dishonest act happens. If one of the Janitorial Service Company's employees is accused of theft and has been found guilty of such based on some substantial evidence, the obligee may post a claim against the surety bond. The claim will be settled by the bond's conditions.
Learn more about this by giving us a call today!
What are the other benefits of securing a Janitorial Services Bond?
High Level of Professional Guarantee – It will show your clients that you mean business and that you value them by strengthening how they can be protected.
Business Edge – A guarantee such as this can make your business better than your competitors. You will gain more clients by easing away from their worries in case such a dishonest act occurs.
How much is the bond amount?
The bond amount differs, but they are all relatively inexpensive and easy to procure. The bond amount will depend on the number of employees of your Janitorial Service Company, or it can also be your bond amount preference.
You can secure a $5,000 surety bond for your company that has 5 or fewer employees. With the bond above amount, you can pay as little as $100 for the annual premium. You can also opt for a higher bond amount for the same number of employees.
How do I get this type of bond?
Seek the help of a surety bond company such as Surety Bond Authority.
Apply for the bond.
Go through the prequalification process.
Sign an indemnity agreement.
Receive the surety bond!
Let's ensure your business' success! Send us an email or give us a call!