What is a Pennsylvania Fishing License Agent Bond?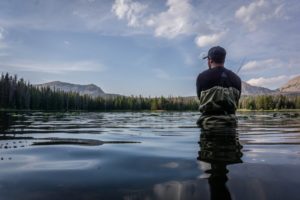 To regulate fishing and protect fishery resources, Pennsylvania requires agents of fisheries management (whether for commercial or recreational fishing) to obtain a license and surety bond before they can legally sell fishing licenses.
The Fishing License Agent Bond guarantees compliance with state laws and regulations pertaining to issuing agents and pays all taxes and fees on the sale of licenses.
Businesses that can legally sell fishing licenses may include, but not limited to:
Commercial/recreational sporting goods stores
Fishing wholesalers/retailers
State-licensed sales dealers
Fishing tackle shops
Fish banks and cleaning stations
Resident fishing farm landowners
Game hunting and fishing businesses
What are the bond conditions?
The bond must be written by a Surety authorized to transact surety business in the Commonwealth of Pennsylvania.
The Principal (fisheries management or fishing license seller) must act in accordance with the Fish and Boat Code, as amended.
The Principal must sell licenses on behalf of the Pennsylvania Fish & Boat Commission and be supplied with equipment and devices used to sell licenses through the Pennsylvania Automated Licensing Service (PALS).
If the Principal has truly, correctly, and faithfully performed and executed its trusts and duties in the issuance and sale of fishing licenses according to law, the obligation will be null and void. Otherwise, it will remain in full force and virtue.
The Surety's liability will not exceed the full penal sum of the bond.
What is the bond amount?
The bond amount varies depending on the permits and licenses that you require and the type of business you have. The amount will be determined by the Pennsylvania Fish & Boat Commission.
Your bond premium will depend on your credit score. Those who have an excellent credit score will be able to pay as little as 1% of the bond amount!
How can I obtain a Fishing License Agent Bond?
Here's a step-by-step bonding process that we have made easier so that you can get your bond in no time:
BOND APPLICATION 
You must first apply for this type of surety bond. If you are ready to do this now, you may APPLY HERE!
Our expert surety bond agent will guide you through the entire process – from the time you have applied until the bond is issued to you.
ASSESSMENT 
Next, you will be asked to submit a few important information that our underwriter will need to assess including your credit score.
To avoid any delays, make sure that you have gathered the right information needed before submitting.
BOND ISSUANCE
Once the underwriting process is done, we will immediately issue your bond and send it to you right away!
*Note: Fishing licenses can be bought online at The Outdoor Shop, the Pennsylvania Fish & Boat Commission's e-commerce site. Licensed and bonded fishing agents will be listed here.
Ready to start? APPLY NOW! Let's secure your licensure requirement by getting bonded today!