What is an Oklahoma Business Service Bond?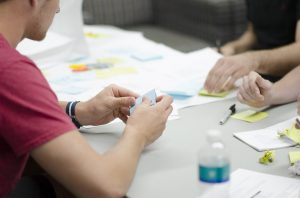 With product-oriented companies, the material actuality of the commodity offers a straightforward yet influential foundation upon which to put together a business description and a business image. However, with service-oriented ventures, the matter is far more difficult because services are more conceptual compared to physical products. For instance, it may be tough to explain security and surveillance as a business to someone who has never had any experience in hiring anyone to do some surveillance activities and never any experience with what goes on in a relationship with a private investigator.
The truth of the matter is, as long as you have gained the trust of a customer, as long as that customer thinks highly of you, as long as that client has it his/her mind that you will deliver what is expected of you, then explain how things work in a specific service business will not really be that tough. In short, trust is easy to achieve when you have something in you that they can see even when you have not delivered the goods yet. This can only happen when you have a Business Service Bond upon your sleeve.
The Oklahoma Business Service Bond is an incontrovertible service contract that businesses need to secure to safeguard their clientele and stakeholders from employee theft, property-related transgressions, and serious misconduct committed at work inside or within clients' residences and offices. The bond is an indisputable assurance offered to patrons for them to have confidence that their property is safe and secure during their absence.
Why do you need an Oklahoma Business Service Bond?
This bond is normally acquired by business firms who are engaged in providing services for appliance repair, pest control, security, and surveillance, home health care, elderly or child care, household or business cleaning, pool cleaning, and repair, moving, locksmiths, painting, landscaping, and groundskeeping.
You need the Oklahoma Business Service Bond because you don't want lawsuits distracting your business operations. You need this bond so that you can look after your investments and shield your clients from dishonest workers in your employ. You also want to be viewed as a business owner who knows how to protect clients' property and interests. With this bond, current customers and prospective clients will look at you as someone who is dependable and an entrepreneur of integrity.
How much does an Oklahoma Business Service Bond cost?
The Oklahoma Business Service Bond premium payment will be determined by your credit score and financial history. Similarly, your personal profile and your reputation as a member of the community will be looked into in deciding how much your premium payments will be for this bond.
How do I get an Oklahoma Business Service Bond?
The Oklahoma Business Service is easy to obtain. Choose a genuine surety professional and give them a call ASAP! An expert surety professional can readily provide you the answers you need and the solution to whatever concerns you have in the operation of your business.