What is a North Dakota Business Service Bond?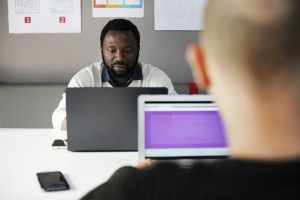 Customer preferences and attitudes are always shifting. An understandable breakdown of resource hours, stringent service level contracts and a well thought-out breakdown of the overheads entailed are viewed as a must in the eye of the customer before signing any purchase agreement. With this reality, the business services industry is now challenged and compelled to invest more in resource planning and customer experience management tools, to better monitor their organization's capability of managing these demands. With the scope and level of competition seen at present which is continuously widening as an outcome of the growth in markets, businesses simply cannot afford to keep an eye on high levels of customer agitation. To avoid such from happening, a guarantee has to be in place to assure clients that when they do avail of the services of a business, they are in the right place. That guarantee is the Business Service Bond.
The North Dakota Business Service Bond is an explicit and an incontestable warranty that businesses need to secure to safeguard their clientele and stakeholders from employee theft, property-related transgressions and severe misconduct committed at work inside or within clients' residences and offices. The bond is an unquestionable pledge offered to patrons for them to have confidence that their property is safe and secure during their absence.
Why do you need a North Dakota Business Service Bond?
You need the North Dakota Business Service Bond because you don't want lawsuits distracting your business operations. You need this bond so that you can look after your investments and shield your clients from dishonest workers in your employ. You also want to be viewed as a business owner who knows how to protect clients' property and interest. With this bond, current customers and prospective clients will look at you as someone who is dependable and an entrepreneur of integrity.
More details about the North Dakota Business Service Bond
This bond is typically acquired by business firms who are engaged in providing services for appliance repair, pest control, security, and surveillance, home health care, elderly or child care, household or business cleaning, pool cleaning, and repair, moving, locksmiths, painting, landscaping and grounds keeping.
How much does a North Dakota Business Service Bond cost?
The North Dakota Business Service Bond premium payment will be determined by your credit score and financial history. Similarly, your profile and your reputation as a member of the community will be looked into in making the decision of how much your premium payments will be for this bond.
How do I get a North Dakota Business Service Bond?
The North Dakota Business Service is easy to obtain. Choose a certified surety professional and give them a call ASAP! An expert surety professional can readily provide you the answers you need and the solution to whatever concerns you have in the operation of your business.