What is a New York Vehicle Dealer Bond?
A quick guide to this surety bond for vehicle dealers in New York!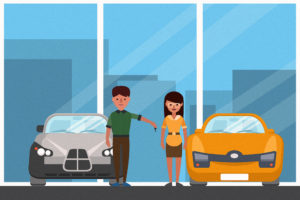 You need this surety bond if you belong to any of the following categories of vehicle dealers:
Dealer
New Motor Vehicle Dealer
Qualified Dealer
A Vehicle Dealer Bond is a surety bond required to assure the New York State Department of Motor Vehicles that the vehicle dealer will fulfill its obligations once the certificate of registration is issued.  Some of these obligations are as follows:
Pay all banks drafts
Transfer the title to each motor vehicle that the vehicle dealer sells
Refund the customer of any vehicle registration overcharges
If the vehicle dealer fails to perform its duties or commits a violation that resulted in the customer suffering damages, the said customer will be financially indemnified through the surety bond.
This surety bond requirement is in pursuance of Section 415 Article 16 of the New York State Vehicle and Traffic Law.
What is the Vehicle Dealer Bond amount?
Dealer (sold 200 or fewer motor vehicles in the previous calendar year) – $10,000
New Motor Vehicle Dealer – $50,000
Qualified Dealer – $50,000
If you have an excellent credit score, you will be eligible to pay for a low bond premium! Bond premium starts at $100.
Want to get a tailored quote ASAP? Get your FREE SURETY BOND QUOTE HERE!
How can I get a Vehicle Dealer Bond?
This is how the bonding process works:
The vehicle dealer certificate or registration applicant should first apply for this type of bond to a state-qualified surety such as Surety Bond Authority.
If you're ready to apply for one right now, you may easily do so HERE!
We will immediately process your application once we have received it. Our expert surety bond team will guide you through the whole process from the time you have applied for the bond up until its issuance. We'll make sure that you understand all the bond conditions.
An underwriter will then evaluate the following:
Your financial strength
Your job/business performance history
Your credit score
You will also need to submit the required bond form.
To avoid any delays, make sure that you gather the requirements ahead of time. Once they have been evaluated, the bond will be issued and sent to you!
What are the surety bond conditions?
The surety should be authorized to do business in New York by the Department of Financial Services of the state
The State of New York will be named as the Obligee of this surety bond
The vehicle dealer is obligated to comply with the provisions of Article 16 of the New York State Vehicle and Traffic Law, as well as the rules and regulations of the New York State Department of Motor Vehicles
If the vehicle dealer commits a valid violation, the aggrieved party will be eligible to file a claim against the surety bond
Ready to get this bond? APPLY HERE!