What is a New York Telemarketer Bond?
Know why this surety bond matters and how to get one fast!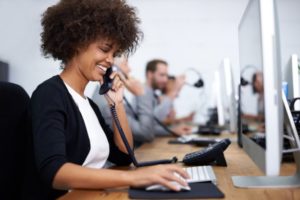 New York is one of the states with the highest employment of telemarketers according to the Bureau of Labor Statistics.
If you're planning to become a telemarketer, you must first seek a certificate of registration and a surety bond!
Before you can perform telemarketing duties in the State of New York, you are required to first obtain a surety bond from a state-authorized surety such as Surety Bond Authority.
The surety bond will be one of the prerequisites for a certificate of registration for telemarketers.
Compliance with the relevant rules, laws, and regulations is one of the reasons for the surety bond. The bond's other purpose is to protect any person from misuse, abuse, or any wrongdoings that the telemarketer might commit. If this happens, the person who has been injured by such acts will be eligible for compensation, and the said compensation will be recovered from the surety bond.
This certificate of the registration requirement is in line with the Telemarketing and Consumer Fraud and Abuse Prevention Act.
What is the Telemarketer Bond amount?
The bond amount is $25,000.
If you have an excellent credit score, you will be eligible to pay for a low bond premium or as low as 1% of the bond amount!
Check out what you need to pay by getting your FREE SURETY BOND QUOTE HERE!
How can I get a Telemarketer Bond?
To secure this type of bond, the telemarketer must seek the assistance of a surety bond company.
You will be asked to apply for this bond. If you're ready to apply for one right now, you may easily do so HERE!
Once the application is received, the surety bond company will immediately process it. In our case, one of our expert surety bond agents will guide you through the whole process from the time you applied for the bond. We will make sure that you understand all the conditions before we issue the bond.
An underwriter will then evaluate the following:
Your financial strength
Your job/business performance history
Your credit score
You will also need to submit the required bond form.
Once the pre-qualification process is fulfilled, we will execute the bond and send it to you!
What are the surety bond conditions?
Get bonded immediately! APPLY TODAY!