What is a Montana Oil and Gas Well Bond?
Get to know what this bond is for and how to obtain one easily!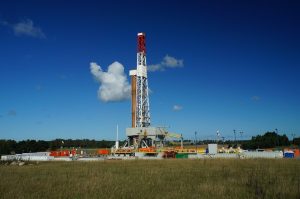 The Oil and Gas Well Bond's purpose is to ensure that the owners or operators of wells in Montana fulfill their obligation by correctly plugging each dry or abandoned well and restoring the surface according to the rules of the Board of Oil and Gas Conservation.
What is the bond amount?
The bond amount will depend on the number of wells and the depth of the well.
Single Well
 

BOND AMOUNT

 

 WELL DEPTH
$ 1,500
2,000 feet or less
$ 5,000
2,000 to 3,501
$ 10,000
3,501 feet or more
Multiple Wells
The bond amount for multiple wells owned by a single operator is $50,000.
An owner of existing wells covered by multiple well bonds in the amount that is less than $25,000 will be asked to procure a new bond, a supplemental bond, or a rider to an existing bond.
Do you want to know what your bond premium will be? Get your FREE quote here today!
What are the bond conditions?     
The bond must be issued by a surety bond company that is licensed to conduct such business in Montana
The bond must be made payable to the State of Montana
The bonds must be issued in the approved forms (Form No. 3 and Form No. 14)
The owner must fulfill his duties by the rules of the Board of Oil and Gas Conservation, the state laws, federal laws, and all the other applicable rules and regulations
If the Board of Oil and Gas Conservation deems necessary, they will require an increase by the appropriate rider of any bond in the following amount:

$1,500 to $3,000
$5,000 to $10,000
$10,000 to $20,000
$50,000 to $100,000

The Board of Oil and Gas Conservation may also limit the number of wells covered by the bond about the bond amount's increase
New or additional wells cannot be added to an existing bond
A change of operator must be submitted in Form No. 20 within 30 days of the well acquisition. The Board may increase the bond amount due to this.
How can I obtain this bond?
To secure this type of bond, you must seek the assistance of a surety bond company such as Surety Bond Authority.
First, you need to submit a bond application.
Once the application is received, one of our expert surety bond agents will guide you through the whole process – from application until submission. We will make sure that you understand all the conditions before the bond is issued.
An underwriter will then evaluate your financial strength, job/business performance history, and your credit score.
Once the prequalification process is fulfilled, we will execute the bond and send it to you!
Need to get started on your bond immediately? Contact us now!