What is an Idaho HVAC Specialty Contractor Bond?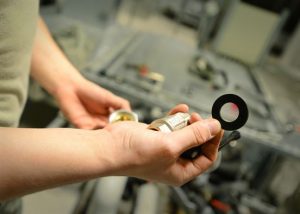 In most cases, an HVAC repair business is initiated by a technician who has acquired the necessary skills, got hold of the essential mindset, and has learned the ropes of the trade from a previous job or jobs within the HVAC industry. The potential entrepreneur expects to take advantage of his experience, at the same time, builds a business firm that echoes his own values and methods.
Normally, the neophyte business owner is knowledgeable in the operational facets of the industry. He understands how to analyze and fix faulty heating and air conditioning equipment and finish off the job competently and efficiently. Once he has obtained the appropriate gear and measurement tools, has purchased a motor vehicle with suitable shelves and bins, then almost everything becomes an effortless undertaking for the up-and-coming service provider. However, there is one more aspect of the business that the new contractor needs to pull off – getting customers' trust. This is where the contractor will need the HVAC Specialty Contractor Bond.
The Idaho HVAC Specialty Contractor Bond is a guarantee demanded by the Idaho Division of Building Safety for the protection of the health and welfare of consumers of Idaho. A rigorous warranty for contractors to carry out all HVAC compliant to the provisions of Idaho's HVAC principles and regulations. This bond covers the contractor and/or his or her workers for outlays sustained by them for damages that resulted from flawed work output or work that is below par.
Why do you need an Idaho HVAC Specialty Contractor Bond?
You need the Idaho HVAC Specialty Contractor Bond because your business is as important as the clients that you are serving. Having this bond can prod current customers and future clients to look up to you as a dependable HVAC contractor performing business operations with overriding dedication, committed to discharging first-rate work, and accomplishing business commitments with respectability.
How much does an Idaho HVAC Specialty Contractor Bond?
The Idaho HVAC Specialty Contractor Bond amount is $2,000 and premium payments are very much dependent on your financial credit report and reputation as a business owner. Eligible candidates with strong financial citations, outstanding business performance, and commendable standing within the community can expect to pay a lesser premium than those who have a devious credit record.
How do I get an Idaho HVAC Specialty Contractor Bond?
Getting the Idaho HVAC Specialty Contractor Bond is effortless. Choose a reliable surety company that you know can serve your specific needs, can address your concerns without delay, and can respond to whatever challenges you will encounter in the process. Call Surety Bond Authority now!