Guide to Fiduciary Surety Bonds?   
A fiduciary is defined as a person or entity that owes another person or entity the highest level of trust and confidence. A court may appoint a fiduciary (or approve the appointment) to manage the affairs of a person or entity who are incapable of handling them themselves.
The responsibilities of a fiduciary vary on a case-to-case basis, but it mostly revolves around administering the property and handling financial concerns. Examples of fiduciary acts include trustees, receivers in bankruptcy, estate administrators, or guardians of minors. Courts normally require Fiduciary Bonds to protect the interests of the person or entity who have placed their trust in fiduciaries.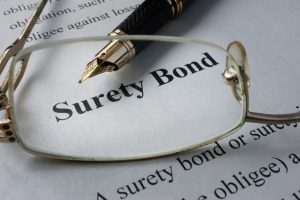 What is a Fiduciary Surety Bond?
A Fiduciary Surety Bond (aka Fiduciary Bond) serves as an insurance protection that guarantees the faithful performance of a fiduciary. This type of court bond is required by the courts to prevent the fiduciary from committing any acts of fraud or embezzlement. By nature, a fiduciary is in a position of trust. The Fiduciary Bond provides protection to the person or entity who entrusted their confidence to a fiduciary. It is a legal instrument that protects creditors, beneficiaries, and heirs against an unfaithful and incompetent fiduciary.
A fiduciary is a person or entity who is given the trust and confidence of a person or entity. Thus a fiduciary owes a duty of loyalty to the person or entity and must fulfill his or her obligations faithfully by guarding and protecting the estate of another person or entity. Aside from those stated above, fiduciaries includes a trustee of a testamentary trust, a guardian of the estate of a minor, a guardian, committee or conservator of the estate of an incompetent person, an executor of a will, an administrator of the estate of a decedent or an advisor or consultant exercising control over a testamentary or express trust.
State laws on fiduciary bonds vary. However, most states may require a fiduciary or executor to obtain a bond with a specified amount to guarantee they will fulfill all the duties required of them faithfully and in good faith. This bond, acting as insurance, will protect the interest of an estate or trust. But the maker of the will can also declare that the bond executor of his or her estate does not need to post a bond.
How Much Does a Fiduciary Bond Cost?
Different states have their respective laws on the forms, procedures and name identification used in obtaining Fiduciary Bonds. Each state also uses varying formulas to determine the bond penalty. In some states, the law states that a penalty should equal the value of personal property, while some states require the penalty to be double the value. Name designation for the Principal and bond identification is also different from each state.
As a general rule, the cost and premium for a Fiduciary Bond are computed based on a certain percentage of the bond. To set an example, a Fiduciary Bond that is set at $500,000 will have a premium of $2,500 if the premium is pegged at one half percent of the bond amount. Take note; a fiduciary will not be given access to estate or trust to pay for the bond until the bond has been issued by a competent surety.
In most cases, the Principal (the one who must perform) will have to pay for the Fiduciary Bond using the fiduciary's personal money, unless it was stated in the will that the estate or the trust would reimburse for the bond. However, if the will indicated that the fiduciary is reimbursed for the bond cost, this will ultimately reduce the amount to be received by the heirs, beneficiaries, and creditors from the estate or trust. Fiduciary Bonds are often seen as a hidden expense of probate, trust, guardianship and other proceedings.
Common and Alternative Terms for Fiduciaries 
Trustee – A probate court will appoint a trustee to manage a trust created under a will or a deed.   Trustee Surety Bond
Executor – A person appointed by an individual or will-maker to take control of his or her affairs after death. However, the appointment of an executor still needs approval from a probate court.  Executor Surety Bond
Administrator – A probate court will appoint an administrator to manage the affairs of a person who has died.    Administrator Surety Bond
Receiver – Normally utilized when business files for bankruptcy or in cases wherein interested parties, usually creditors, ask the court the court to replace the person or entity that controls the business. Receivers are court-appointed persons or entities.  Receiver Surety Bond
Guardian – Refers to a person appointed by a probate court to manage the estate of a minor or an individual who was deemed legally incompetent.  Guardianship Surety Bond
Conservator, custodian, liquidator, receiver, or trustee – Government authorities sometimes appoint these individuals or entities to preserve or even liquidate financial institutions, like banks, insurance companies or firms that grant health of death benefits.  Custodian Surety Bond or VA Veterans Custodian Surety Bond                                      
Master, referee, trustee, commissioner, receiver, assignee, or liquidator – Equity courts appoint these individuals or entities to handle the disposal or real estate involved in foreclosure, reorganization, partition, or liquidation of assets of a business or an individual.  Receiver Surety Bond or  Trustee Surety Bond 
Committee, conservator, curator – Court-appointed individuals or entities to manage the affairs of a person declared by the court as legally incompetent.
Agent, committee, custodian, distributor, receiver, marshal, or trustee – Court-appointed individuals or entities to handle the affairs of an individual or business that files for bankruptcy.   Receiver Surety Bond
Benefits of Fiduciary Bonds
The essence of Fiduciary Bonds is to provide a guarantee that the fiduciary will execute the duties prescribed by laws or by the courts in good faith. It also enjoins the fiduciary to take financial responsibility in the conduct of his or her duties for the benefit of another individual or entity.
Most laws give the fiduciary the authority to take control of assets, handle it, and even transfer or distribute them.  But the fiduciary is accountable for all the transactions carried out according to the law. Any interested parties that have an interest in the estate can file a claim against the surety for any losses incurred for the failure of the fiduciary to fulfill all its legal duties and obligations.
Fiduciary Bond Exemptions
There are instances when a court or the state does not require a fiduciary to post a Fiduciary Bonds. Corporate fiduciaries, including banks and trust companies, are such entities that are often exempted from posting the said bond.
It is understood that these entities pose a very low risk and put a high value on their names that they would not risk committing fraud or embezzlement. The law also recognizes that banks and trust companies are financially capable of paying back funds that they lose through negligence or by intent. The courts also exempt the filing of a Fiduciary Bond when the assets involved are primarily real property.
The reason for this is real estate is fixed asset, and it would be impossible that the property will be stolen or lost. It is also the same rationale why courts do not add the value of real estate when computing the amount of the bond.
Do You Need a Fiduciary Bond?
If you are an appointed trustee, executor, administrator, receiver, guardian, conservator, custodian, liquidator, master, referee, commissioner, assignee, curator, agent, committee, distributor, or marshal, chances are, the court will order you to obtain a Fiduciary Bond. Or you could be an heir, creditor or a beneficiary to an estate, will or property and wants to understand the responsibilities of the court-appointed fiduciary or trustee, then Surety Bond Authority is the right place for you.
Surety Bond Authority will provide you all the information that you need, from the process of filing a Fiduciary Bond to explaining its needs, requirements as well as the various laws applicable where you want the bond to be filed.   Please call us at 800-333-7800. We can provide you with a free quote.
About Surety Bond Authority
Surety Bond Authority is founded by its CEO Greg Rynerson. The Company is backed by 25 years of experience in surety bonds and insurance industries. Surety Bond Authority prides itself with a solid foundation of integrity and excellent reputation.
Throughout Greg's professional career, he has written bonds at the state and federal level for his satisfied clients. At Surety Bond Authority, we guarantee excellent customer service at affordable rates.  Need a FREE QUOTE?