What is a Colorado Motor Vehicle Salesperson Bond?
Get your quick guide to this type of bond today!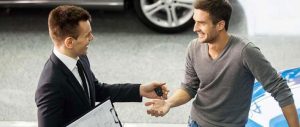 This surety bond is one of the fundamental prerequisites for becoming a licensed Motor Vehicle Salesperson in the State of Colorado.
This requirement is stated in section 12-6-111 of the Colorado Revised Statutes, and enforced by the Colorado Department of Revenue Auto Industry Division.
The purpose of the bond is to ensure that the Motor Vehicle Salesperson will perform his obligations faithfully without any misconduct.
A Motor Vehicle Salesperson is an individual who is employed by a Motor Vehicle Dealer to sell, lease, purchase, or exchange motor vehicles or to negotiate the duties as mentioned earlier concerning motor vehicles.
What is the bond amount?
The bond amount is $15,000.
If you have an excellent credit score, you may be eligible for a very low bond premium or just 1% of the bond amount. To determine what you have to pay, get your FREE quote from us today!
What are the Motor Vehicle Salesperson Bond conditions?
The bond shall be issued by a surety bond company who is licensed in Colorado such as Surety Bond Authority
The principal shall comply with the Colorado Vehicle Industry Laws and all the other rules and regulations that govern the Motor Vehicle Salesperson
If the Motor Vehicle Dealer procured a surety bond stated under section 12-6-513 of the C.R.S. (Powersports Vehicle Salesperson's Bond), the Motor Vehicle Salesperson would not be required to furnish another bond
The surety is not required to pay any person until a claim is determined by the Motor Vehicle Dealer Board or by a competent court
The surety bond shall be renewed annually along with the license
How can I obtain this type of bond?
You can easily obtain one by submitting an application.
We will ask you a couple of relevant facts needed for the underwriting process once we have received your application. This will include your financial capability, your job performance history, and your credit score. One of our expert underwriters will assess all the information you have given before we execute the bond.
Once done, we will ask you to sign an indemnity agreement, issue the bond, then send it to you immediately!
What are the other requirements to become a licensed Motor Vehicle Salesperson in Colorado aside from the surety bond?
Completed Motor Vehicle Salesperson Application form (DR 2115)
Completed Mastery Examination Affidavit (DR 2097)
Affidavit – Restrictions on Public Benefits (DR 4679)
A copy of the Secure and Verifiable Identification document
If applicable, certified court copies of all criminal history convictions.
If applicable, certified court copies of all financial issues.
Proof of payment and payment plans documentation
Pay the necessary license fees:
Original Salesperson: $125
Renewal Salesperson: $96
Do you want to know more? Call one of our expert surety bond agents today. You may also send us an email. Looking forward to partnering with you!