What is an Alabama Taxable Fuel Bond?
Understand what this surety bond is for and how to obtain one!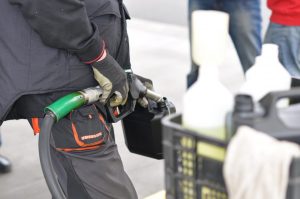 An Alabama Taxable Fuel Bond is a way for the following license applicants and licensees to assure the Alabama Department of Revenue that they will pay the taxes due in full and on time:
Supplier of taxable fuel
Permissive Supplier of taxable fuel
Terminal operator of taxable fuel
Exporter of taxable fuel
Blender of taxable fuel
Importer of taxable fuel
Distributor of taxable fuel
The different taxable fuel in Alabama are as follows:
Gasoline
Diesel Fuel
Aviation Gasoline
Jet Fuel
Lubricating Oil
Wholesale Oil License
Undyed Diesel
Dyed Diesel
Dyed Kerosene
What is the bond amount?
The amount varies. It will be based on twice the average monthly tax liability of the licensee.
LICENSE TYPE
BOND AMOUNT
Supplier, Permissive Supplier, or Terminal Operator
$2,000,000

(maximum)

Exporter, Blender, Importer, or Distributor
$2,000

(minimum)
If you have an excellent credit score, you may be eligible to pay a very low bond premium!
Find out you need to pay for this bond today! Get your FREE QUOTE HERE!
What are the Taxable Fuel Bond conditions?
The surety bond should be issued by a surety bond agent or company that is authorized to conduct business in Alabama
The surety bond should be approved by the Alabama Commissioner of Insurance
The licensee is obligated to comply with the provisions of Title 40 Chapter 17 of the Code of Alabama, the rules and regulations of the Alabama Department of Revenue, and all the other applicable rules
If the licensee commits a valid violation, the aggrieved party will be eligible to file a claim on the surety bond
If the applicant is applying for multiple licenses, he or she will only be required to post one surety bond unless the Alabama Commissioner of Insurance suggests otherwise
The surety bond will remain valid until canceled. In case of cancellation, a 30-day notice is required
How can I obtain a Taxable Fuel Bond?  
You can easily get this type of bond from us!  Don't worry. We will guide you through the whole process. We will make sure that you will understand what you will be getting into.
First, you need to submit an application.
If you are ready to do that now, you may APPLY HERE!
Once we have received your application, we will ask you to provide us with a couple of important information needed for the underwriting process. These will include the following:
Your financial history
Your tax payment history
Your business history
Your credit score
An underwriter will carefully evaluate all the information that you will give us. Once this process has been fulfilled, we will immediately issue the bond and send it to you!
Are you ready to start on your bond? APPLY HERE today!